---
Amna Akbar 
Associate Professor of Law
Amna Akbar's research and teaching focus on social movements, critical theory, and policing, race, and inequality. Her scholarship explores the intersections of national security and criminal law, and the potential of social movements to transform our thinking about law, law enforcement, and law reform. She writes broadly for academic and popular audiences, in outlets like NYU Law Review, UCLA Law Review, NOMOS, Citizenship Studies, the Journal of Legal Education, Law and Political Economy, the Nation, Boston Review, and more. In her teaching and lawyering work, she is deeply engaged with law and organizing in Ohio and around the country.
---
Micah Berman
Associate Professor of Public Health and Law
Professor Micah Berman holds a joint appointment with The Ohio State University Moritz College of Law and the College of Public Health. His scholarship examines the intersection between public health research and legal doctrine, with a focus on tobacco policy. He has published articles in a number of leading journals, including the American Journal of Law & Medicine, the Brooklyn Law Review, and the American Journal of Public Health.
---
Aravind Chandrasekaran
Associate Professor of Operations, Fisher College of Business
Dr. Chandrasekaran's research investigates innovation, learning and knowledge creation issues in a variety of areas including high-tech R&D, manufacturing and health-care delivery. In recent years, he has begun to study the challenges involved in developing patient-centric healthcare models by conducting field experiments in collaboration with several physician and nursing leaders.
---
Bryan H. Choi
Assistant Professor of Law and Computer Science & Engineering 
Professor Choi's current work explores the interaction between the tort liability regime and cyberphysical systems such as self-driving cars. He has also written about data privacy through a series of lenses including criminal procedure ("For Whom the Data Tolls," published in the Cardozo Law Review); intellectual property ("A Prospect Theory of Privacy", published in the Idaho Law Review); and anonymity ("The Anonymous Internet," published in the Maryland Law Review).
---
Efthimios Parasidis
Professor of Law and Public Health
Professor Parasidis' scholarship focuses on the regulation of medical products and human subjects research, the interplay between health law and intellectual property, and the application of health information technology to public health policy. He has published extensively in law reviews and health policy journals, is co-author of a leading casebook on the ethics and regulation of research with human subjects, and has a book under contract with Oxford University Press. The Greenwall Foundation awarded Professor Parasidis a Faculty Scholar in Bioethics fellowship for 2014-2017.
---
Srinivasan Parthasarathy
Professor of Computer Science & Engineering and SBS-Biomedical Informatics
Professor Parthasarathy directs the Data Mining Research Laboratory which is a part of the High End Systems Group and affiliated with the Laboratory for Artificial Intelligence Research. I am broadly interested in the areas of High Performance Data Analytics, Graph Analytics and Network Science, and Machine Learning and Database Systems. National Science Foundation, the Department of Energy and the National Institutes of Health have been the primary supporters of his group's research.
---
Dakota S. Rudesill
Assistant Professor of Law
Particular areas of emphasis in Professor Rudesill's work are intelligence and secrecy (including secret law), arms control and nuclear weapons, legislation, and the experiential "learning-by-doing" training of professionals.  Professor Rudesill leads a coalition pushing for a congressional clerkship program analogous to the judiciary's law clerk program, and is the creator and director of The Ohio State National Security Simulation.  This immersive annual exercise places over 130 OSU students from law, policy, intelligence, military, communications, and business management backgrounds in their respective roles as they grapple with current national security challenges and advise top practitioners in real time over two days.
---
Peter M. Shane
Jacob E. Davis and Jacob E. Davis II Chair in Law
Professor Peter M. Shane came to Ohio State in 2003 from Carnegie Mellon University's H. John Heinz III School of Public Policy and Management. He is an internationally recognized scholar in administrative law, with a specialty in separation of powers law and has co-authored leading casebooks on each subject. He has served on the faculty at the University of Iowa College of Law and was dean at the University of Pittsburgh School of Law. In addition to his outstanding law teaching and scholarship, Professor Shane has received a National Science Foundation grant for interdisciplinary study related to cyberspace and democracy.
---
Ric Simmons
Chief Justice Thomas J. Moyer Professor for the Administration of Justice and Rule of Law
Professor Simmons' research focuses on the intersection of the Fourth Amendment and new technology. He has written about the search of cell phones in The Missed Opportunities of Riley v. California, 12 Ohio State Journal of Criminal Law (2014), the use of new surveillance techniques in Technology-Enhanced Surveillance by Law Enforcement Officials, 60 New York University Annual Survey of American Law 711 (2005)), and hyper-intrusive surveillance in Can Winston Save Us from Big Brother? The Need for Judicial Consistency in Regulating Hyper-Intrusive Searches, 55 Rutgers Law Review 547 (Winter 2003)).
---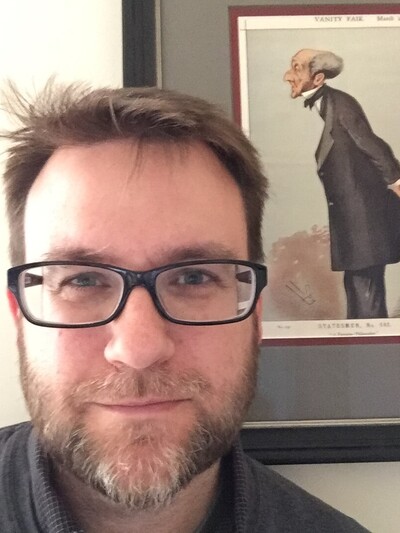 Piers Turner
Associate Professor of Philosophy and (by courtesy) Political Science
Professor Turner is a leader of Ohio State's Center for Ethics and Human Values and its COMPAS program, a member of the Democracy Studies Program, and a regular participant in the Political Theory Workshop. His work focuses on utilitarianism and liberal political thought, especially as it relates to the moral and political philosophy of John Stuart Mill. He has published articles in a number of leading journals and is working on a manuscript entitled The Rightful and the Right: The Structure of JS Mill's Moral and Political Philosophy.